January - The Beatles - Big Beat Poster, England 1962 [ Back to Gallery ]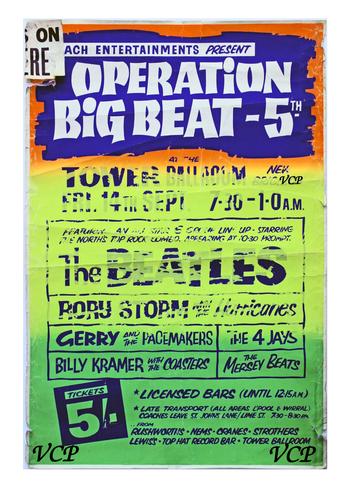 An awesome start to the New Year with an extremely rare 1962 Beatles Concert Poster from The Tower Ballroom in New Brighton, England. To my knowledge only 3 of these posters that I can confirm exist. Most likely very few others than these survived as poster collecting at this time was not of interest to many and most early Beatles posters such as this one were printed on very thin paper and pasted to walls as advertisement. So to get one, you either had to obtain one from the printer or someone who was hired to paste up the poster, neither a likely event for a fan, or in the case of this poster, peel it off the wall with great care not to rip it up.

This poster has some extremely important historical facts behind it. First, it comes from the Lead Guitar Player of Rory Storm and the Hurricanes who did indeed peel it off the wall to keep as a memento of his days as a "rock star" and the exciting time that was happening with music in England. Second, this was perhaps the first time The Beatles headlined over the popular Rory Storm rock group. Third, while Beatle Mania was still a year and a half away from arriving in the US, Beatle Mania (with the group we all identify with as The Beatles) was just taking hold in England and ready to explode into the New Year of 1963 in England and other parts of Europe.

Finally, and most importantly, The Beatles had just acquired a new drummer for their group – Ringo Starr! And guess what Rock Group Ringo had been playing drums with right before this dance/concert? If you guessed Rory Storm and the Hurricanes you are right! Now that had to be an interesting night of interaction between the two groups!

The poster is rather large 20"x30 which makes it a real show piece for display along with the day glow silk screen colors/printing. In the upper left hand corner you can see a bit of remaining poster that had been pasted over this one. The poster is a strong candidate for restoration to make it look perfect, but personally I love the character of it just the way it is. You can not "Beat" the feeling one gets from looking at it and fantasying what it would have been like to see tit pasted to a wall, then going to the dance to see(not knowing at the time) the best rock group ever to exist in the history of music. Vintage Concert Posters do not get better and more important than this one!