September - Elvis Presley 1957 Seattle, Washington [ Back to Gallery ]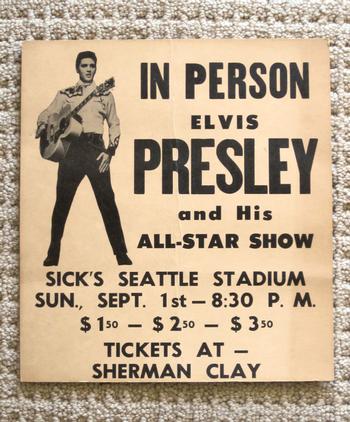 In April, we had an outstanding poster for the "King of Soul" and now in September one has surfaced and been acquired of the "King of Rock" – Elvis Presley! Surprisingly as popular (and that is an understatement) there are very few posters of Elvis Presley for the 1950's and an original 50's concert poster with a picture of Elvis is virtually impossible to find! Elvis played four venues in a short Pacific Northwest tour in 1957: Spokane, Vancouver, Seattle and Takoma – all Stadium shows and likely sell-outs.

Elvis was at the top of his popularity and the start of Rock an Roll had been awakened! While the posters were not really needed to sell tickets, they were produced and hung on poles and windows and only a handful, likely less than 5 have ever surfaced or survived. The poster is cardboard and smaller than the standard 14x20" cardboards that is typical of those days. Two Seattle posters have been found (which include this one) and both have the union printers credit missing. As it turns out, right at this time, Seattle a heavy Union labor town, had a very public scandal erupt right before these performances and the public was furious with the Unions. It is likely the promoter had these posters produced without the printer's credit to avoid associating Elvis with the Union's wrongdoings, thus making the poster about 2" smaller than the ones used at the other venues which only two exists from my knowledge.

A terrific museum piece of Pop Culture with the King of Rock displayed as he should be remembered!