March - Jefferson Airplane 1967 Carver Gym Bellingham, WA [ Back to Gallery ]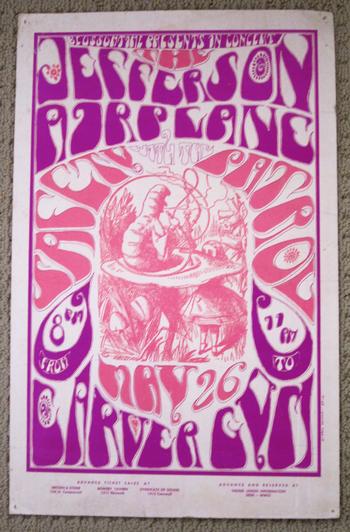 I've always loved Jefferson Airplane; they were the first group along with the Seeds that I identified with the psychedelic scene that was taking place on the West Coast in 1966 and 67. The Airplane's "Jefferson Airplane Takes Off" and "Surrealistic Pillow" are still two of my favorite albums of the 60's. Even though both albums are quite different, including the female lead singer change of Signe Anderson to Grace Slick, they are in my opinion signature albums of this period.

The Airplane's real success came from their second album which was shadow produced by none other than "Jerry Garcia" who also suggested the name of the album. One thing that vividly sticks in my mind from the summer of 1967 was when I traveled (or rather hitch-hiked) to Los Angeles and then to San Francisco, was the airwaves in Southern California was dominated by the Doors "Light my Fire" and in Northern California, the airwaves were dominated by Jefferson Airplane's "White Rabbit". What a great time the summer of 67 was and the music just kept getting better day by day.

Now for the poster and what a perfect example of a Sixties psychedelic poster! This poster has everything you want in a psychedelic poster – great art, likely borrowed or at least inspired by Louis Carroll's "Alice in Wonderland", terrific psychedelic lettering, great colors and one of the best psychedelic bands of the Sixties . Given the image of this poster and Jefferson Airplane's "White Rabbit" playing on the airwaves, you have to ask yourself – who couldn't stay away from this event! And finally I love the venue – a Gym! Things were still at the early stage of discovery. What a great vintage concert poster from 1967.