June - Big Brother and The Holding Company Selland Arena, Fresno 1968 [ Back to Gallery ]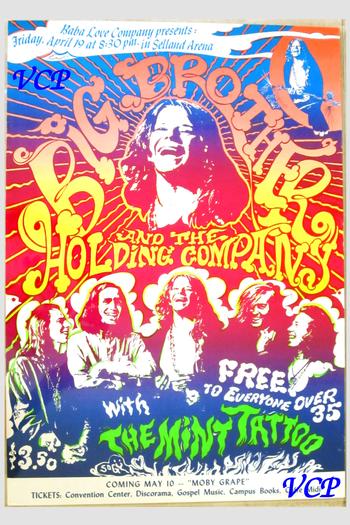 One of the most beautiful posters of the 60's and featuring none other than Big Brother and the Holding Company with Janis Joplin highlighted smack dab in the middle, along with a great song bird rendition of her in the upper right corner – how fitting!

This is the way I like to remember Big Brother and Janis from the sixties - happy, carefree and with the aura of what things could have been from the heart of the hippie movement which started in Haight Asbury, San Francisco. The composition, colors and attitude of this poster is perfect in my opinion and I would put this poster right up with the best of the concert posters produced during this time. They truly don't come much better than this!

Sadly, happy time were not to last as Janis would move on from Big Brother to her own solo career and getting deeper and deeper into drugs and booze until it ended all too soon. None the less, we are blessed with what both Big Brother and Janis left behind, which are some great memories and timeless music.

What I also love about this poster is the Senior Citizen discount noted "Free to Everyone over 35". How about 35 being considered old!

A great addition to the Vintage Concert Posters Collection.