July – The Biggest Show of Stars for 1957 Spokane, Washington [ Back to Gallery ]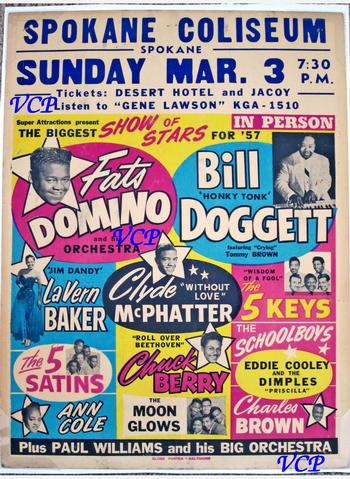 There are three or four really strong stand-out "Show of Stars Posters" from the 50's and two of them are for the Spring and Fall Show of Stars tours of 1957. Rock and Roll was really hitting its high as both black and white artists were dominating the charts with future Rock and Roll Hall of Famers such as Elvis, Fats Domino, Chuck Berry, Buddy Holly, Little Richard, Jerry Lee Lewis, Eddie Cochran, The Everly Brothers, LaVerne Baker and many more and most of these artist can be found on the 1957 Show of Stars posters.

What makes this poster really special besides the great line-up of artists is the graphics; they just don't get much better than this and this Spring 1957 Show of Stars posters makes a perfect match with the Fall Show of Stars poster which can be seen in the boxing style gallery. Globe Posters of Baltimore made both posters.

What also makes this poster very special is the story and history behind it, which I will posting in detail in the near future. The short version is it was kept by the owner after attending the show with his high school girlfriend whom later became his wife and both remember the show in excellent detail – so look forward to reading some interesting facts about these traveling shows from someone who was there!

In the meantime, enjoy the beautiful graphics; as stated above such great and rare vintage concert posters just don't get much better than this one.