December - Vulcan Gas Company, Celebration of Love 1967 [ Back to Gallery ]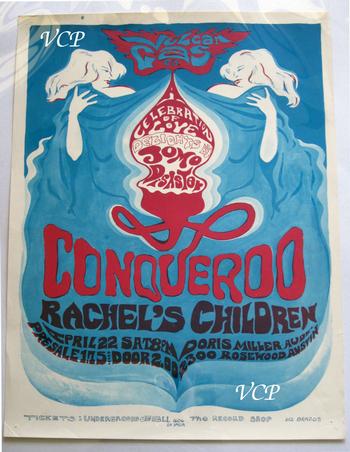 We finish up the year with a really, really beautiful poster from the Vulcan Gas Company Series, named "The Celebration of Love" need we say more for such a sixties touchy, feely poster? The artwork and coloring on this poster is hard to describe as when you see it in person, the colors and art literally almost jump out of the poster. Done in an art nouveau style with free flowing lines it is truly one of the best artistic posters done during this period of psychedelic poster art.

While the Vulcan Gas Company posters may not have had the best bands playing at their venue they did have some of the best artwork produced during the sixties and in my opinion many of their posters surpass even some of the best of the Avalon and Bill Graham Presents series of posters. So if you're looking for something artful with dazzling colors check out the Vulcan Gas Company posters. This is an early one in the series and difficult to obtain, but with a little patience and diligence you should be able to find one. My advice"Grab One for your Collection"!

A perfect poster to finish up a terrific year of collecting Vintage Concert Posters!