January - The Beatles - Grafton Ballroom Poster, Liverpool, 1963! [ Back to Gallery ]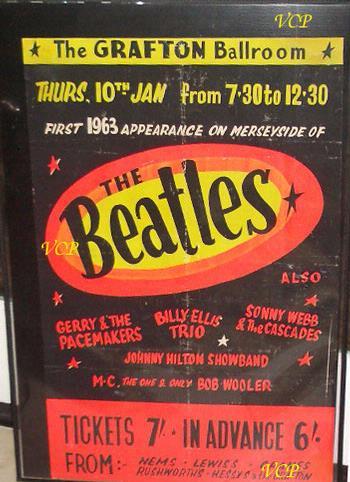 Wow, what an incredible way to start out 2009, with what I would consider the best Beatles poster ever produced! A spectacular silk screen, one sheet poster, from an early performance of the Beatles in 1963, in none other than their hometown of Liverpool.

You just can't find a better poster than this one, showcasing the top rock n' roll band in the history of music.

Now some will say - what about the Shea poster, isn't that a better poster? Well, no doubt about it, the Shea poster is a really cool poster, but in my opinion this beats it hands down. Why? - several reasons: first, this poster grabs your immediate attention and conveys the excitement of that era by the colorful "knock-out" dayglow art, while the Shea poster is a rather typical portrait poster; second, this poster is from the real start of Beatlemania - early 1963 - with the Beatles returning to Liverpool from Germany where they had honed their skills in becoming an incredible live performing rock n' roll band. Unfortunately after 1964 with a few exceptions the Beatles live music was never really heard again, being drowned out by hysterical, screaming fans. The band became so frustrated with live performances, that by 1965 they wanted to cancel them all and focus their talents on creative studio work of writing and arranging music, which they finally did in 1966. As we all know, not all was lost since their studio work produced some of the best music ever, but gone were the good old days of rock n' roll with live Beatles music from that magical period of 1962 and 1963. As previously noted, this poster is from their hometown of Liverpool in a small ballroom vs. a stop on a huge stadium tour and much, much more rare, with only two copies known to have survived compared to about 10 of the Shea Stadium Beatles posters. Finally, and perhaps most important is: this concert was held on a very special day, January 10th - my birthday!

Truly one of the best vintage concert posters to ever come along in the poster collecting world.