February - Johnny Ace and Big Mama Thornton Poster, 1953 [ Back to Gallery ]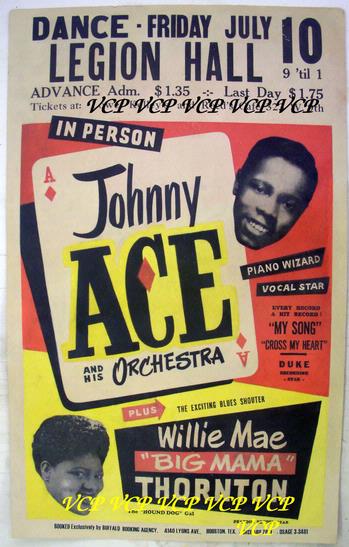 Now some psychedelic collectors will be scratching their heads wondering who was Johnny Ace? Well, this is truly an amazing piece of history, not to mention a terrific looking poster. Johnny Ace happened to be the first major black artist to gain a large white audience as fans; now remember this was the early 50's and blues, rock n' roll, black and white were not mixing all that well in a lot of parts of the country. That was until Johnny Ace came along with such a smooth style, great voice and good looks that he was immediately accepted by young whites and was a black artist that their parents did not necessarily object to. Unfortunately this didn't last all that long because Johnny died very early in his career becoming the first causality of Rock n' Roll.

Johnny was shoot and killed (by accident?) while playing with a gun in his dressing room right after his night's performance. Ace had been performing at the City Auditorium in Houston , Texas on Christmas 1954 when the accident(?) occured. A fair amount of mystery surrounds this event, because those who knew Johnny swear he would have never done anything like that on purpose and the fact that his life was threatened that night prior to his performance because someone didn't want Johnny singing to young white teenagers adds to the mystery along with troubles he was having with his then current manager as he was renegotiating his contract. What a loss, since Johnny was jfast becoming a true "superstar".

Only 2 original Johnny Ace concert posters that exist today - this one and a somewhat similar design (but different) for a performance at the Sunset Ballroom in Los Angeles at a later date. This vintage concert poster is one of the best looking boxing style posters to have ever been produced. And OH by the way - let's not forget "Hound Dog Gal", Big Mama Thornton, who made the song "Hound Dog" popular well before Elvis ever did his recording. Big Mama Thornton became one of the most famous female blues singers ever, having an enormous influence and impact on both male and female blues singers including none other than the most famous white female blues singer of all time - Janis Joplin! Interesting to note that when Janis asked Big Mama permission to do her famous song "Ball and Chain" which Janis premiered at the Monterey Pop Festival, it totally brought the house down and propelled Janis to instant fame!