March - Grateful Dead - Griffin's Hawaiian Aoxo Poster, 1969 [ Back to Gallery ]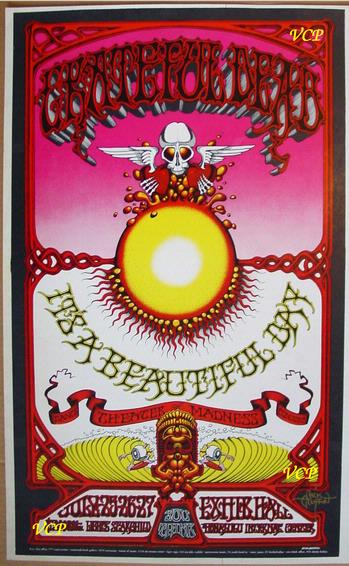 Now here's something you don't see everyday - in fact, this particular vintage concert poster is most likely the only one in existence for this color combination. A full proof sheet (handbills not shown) void of the blue and green colors laid over it, which in my opinion actually makes this poster stand out even more than the final blue green version. To see the final version go to the psychedelic gallery. The final version is reminisent of a daytime scene, where I would consider this either sunrise or sunset. Hawaiian Aoxo posters are among the rarest of both Grateful Dead posters and Rick Girffin posters. Also there is an interesting story that goes along as to why this poster is so rare related to not paying the printer because the event was cancelled.

Not enough can be said about the talent of Rick Griffin - he has emerged as the most prominent of the sixties artists, along with Robert Crumb and Peter Max, the latter two known for different art than concert posters. Griffin's original art and his best and rarest posters are now being sought after by museums throughout the world. I consider Rick's best to be the Human Be-In, BG 105 (the flying eyeball) and the Hawaiian Aoxomoxoa. Also, take notice of Rick's signature - a nice addition to the poster.