April - Led Zeppelin - 1969 Cardboard Boxing Style Poster from Jacksonville, FL [ Back to Gallery ]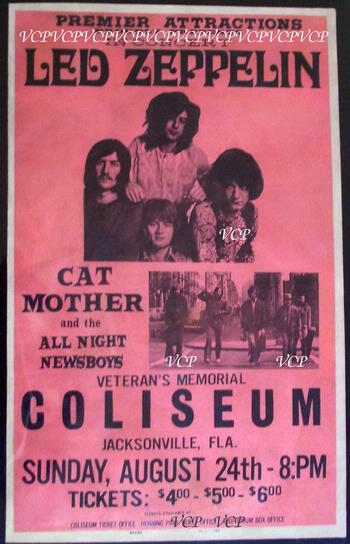 A more than special Led Zeppelin poster! It is the only known cardboard boxing style Led Zeppelin poster from the 1960's and magnificent in its simplicity, color and design. Certainly my favorite of all Led Zeppelin posters (along with the UC Irvine poster - see psychedelic gallery).

Led Zeppelin came onto the rock scene at the tail end of 68 and was virtually the hottest band in the world by 1970, gaining momentum throughout 1969 and achieved becoming the second biggest selling rock group for records in the history of music, following the Beatles. A heavy metal band and this is the way they should be portrayed in my opinion. What's interesting is their almost equal sharing of the bill with Cat Mother - now that band did not quite have the same success as Zeppelin!